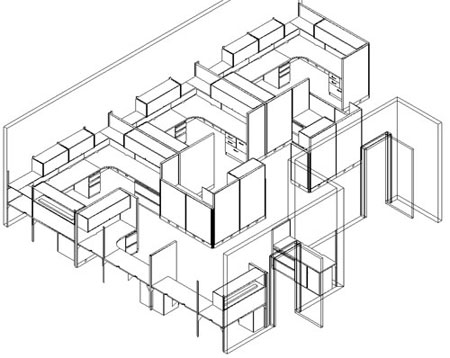 Whether you are designing new office space or redesigning existing office space we are here to help you with the space layout and office design!
Today's modern office demands not just tasteful furniture, the furnishing must be the latest in ergonomic function, the latest in space utilization and of course the most economical and competitive pricing in the market.
In today's workplace where efficient use of space is of utmost importance our experienced staff will work with your architect and or designer to come up with the most optimal mix of furnishings for your unique situation.
We plan and design cubicle workstations with the most modern and up to date materials and fabrics to achieve eye catching and employee pleasing design so the workplace will be optimized for efficient work flow, comfortable productive employees and a design to impress clients.
We provide at no cost to you 2D and 3D CAD designs so you can visualize the concept and design of cubicles and office layouts.

We will provide you with fabric and wood finish samples from any manufacturer so you can feel and see the textures and color variations down to the minute detail no buying blind and hoping for the best.

We work closely with you and your design team so when it comes time to buy you will not have to start looking for pricing from vendors and suppliers our prices are extremely competitive, we will not be beat!
As soon as the design and layout is done you will be ready to place your order with the full confidence that you are getting the right fabric and finish at the lowest price!
Our commitment to you does not end with your purchase we will make sure that your purchase is delivered to you on time and in good condition. Where install is desired we will make sure the installation is done to perfection and every one of your visions of a tastefully modern and efficient office will have been fulfilled.